A call to turn inward.
Songs to shine light into your inner life.
An invitation to a deeper experience of yourself.
•
Inspired by the chakras, sung from the heart.
"Wow, wow wow, how powerful! This album can change lives."
"Wakes, your album is a master piece. I have cried with it, I've rocked my body with it. Each song a journey. Story telling... I'm deeply touched by it. The way music is supposed to be. Pure art. 🎵🎶🎵🌌🎧"
"OMG - I think I'm on my 4th or 5th time listening to the full album. Thank you so much for sharing your talent with everyone! You are, and this album is, AMAZING!! Thank you ❤️ ❤️ ❤️ ❤️"
"I'm in heaven to have all these wonderful mantra songs in one place. ✨ Just stunning. Can't wait to receive the physical CD and mantra cards! Blessings and congrats."
I just have no words to capture how freaking beautiful this is! I'm listening on my couch right now but can't wait till the weekend when I can lay on my floor snuggled and warm, slap my head phones on and just absorb every vibration of this goodness."
Listeners be forewarned! If like us you're gonna take in Wakes new album Journey Through the Chakras via headphones, cozied up in fabrics, void of expectations, you're likely to travel well beyond the chakras into unknown depths of your psyche. You're welcome.
I can't stop listening to this album!!!! It's so relaxing.
Have I told you that I love love love love the album?!?! It's amazing! I fall asleep with it every night!
I've just listened to the whole album. No words will do it justice 💗. You should feel deeply proud. 🙏🏽
Journey through the Chakras is a sound healing (mantra-based) meditation album by Wakes. It is inspired by the wisdom of the chakra system and explores the beautiful journey of human development. Vocal harmony and transportive lyrics corresponding with each chakra are sung atop instruments from healing traditions around the world like harmonium, guitar, bansuri flute, handpan, drums, gongs, crystal bowls and more. It all combines to create a moving soundscape for you to immerse yourself into and encourage you toward listening more deeply to your own intimate inner world. Each track can be used as a single meditation session on a specific chakra or can be listened to in its entirety for a deep dive sound journey.  
These songs will light you up, balance and calm, tap into the subconscious, and teach you about yourself through the power of sound and vibration, male and female vocal harmony, and transportive lyrics. Perfect for processing emotions, tapping into your potential, accessing creativity, silencing mind chatter, and drifting to deep sleep.
The Healing Power of Music
Music has the capacity to reveal and help us let go of pent up emotions that can hold us back from living our most free and abundant lives. These songs are written and composed to maximize the healing power of emotional release and bring new insight and revelation to your understanding of yourself.
It has many benefits for you to enjoy:
Foster peace and soothe your spirit during these anxious, uncertain times
Create deep relaxation and nervous system down regulation

Shift brain states to assist falling asleep when you are restless

Deepen your meditation and spiritual practice through the power of music
Explore and balance your chakras, and their various expressions in your life
Release challenging emotions and create a safe space for healing
Simply be something beautiful and inspiring for you to enjoy!
We believe music has the power to heal us on so many levels, and we wrote this sound journey as a reflection on the immense wisdom and learning held for us within the chakra system. For us, the chakra system inspires a deeper understanding and grace for the foundational elements of our human journey and development.
Whether you're new to the chakras, or a studied practitioner, we have no doubt you will resonate with the mantras and melodies of this music. Thank you for going on this journey with us!
Get the CD with meditation cards or high quality digital downloads.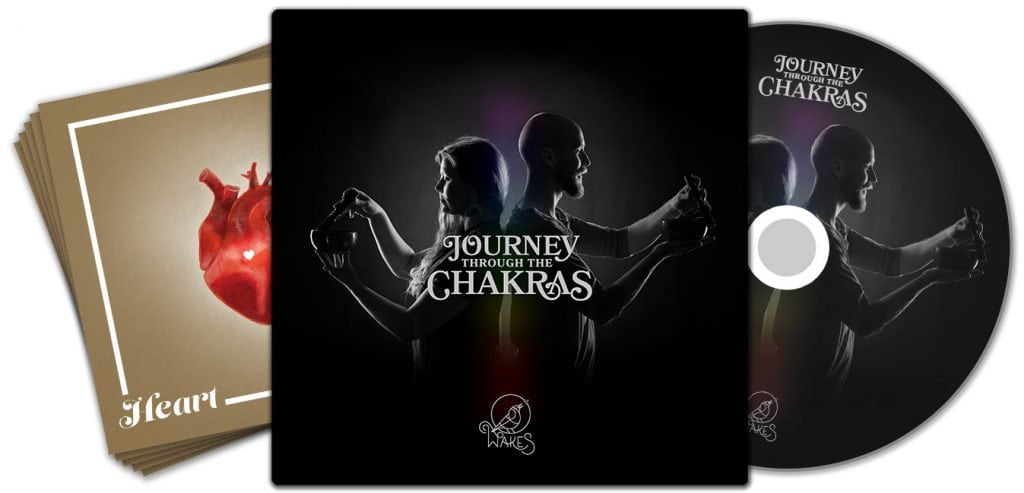 Get a physical CD and get an accompanying set of meditations cards for each chakra.
Download today! High quality digital downloads in MP3, FLAC or lossless MP4.
7 beautiful mantra cards.
Infused with essential oils to sweeten your practice.
Waxed for longevity.
Words to deepen your understanding of, and relationship with, the chakras.
Guidance to enrich your meditation practice.
Each card has a mantra from each of the 7 movements of our sound journey, one for each chakra. The back side of the card has information about one energy center of the body, encouragement, and a provoking question or practice to open this part of you a little more. 
Take your experiences of these songs with you to deepen the insights and healing. Use your own voice and tap into the power of mantra by repeating and meditating on the words. Go deeper with yourself, explore further, open more, and embrace all.